NOURISH THE MAMA
June 27 2022 – Carmen de Souza - Bingham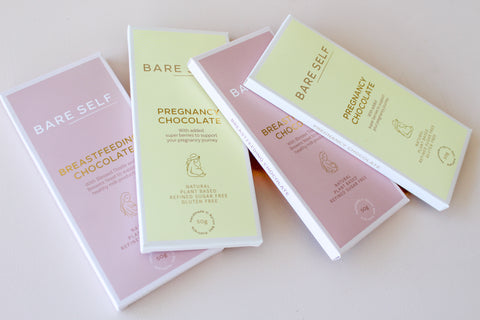 This blog is dedicated to, two glorious products that we are just obsessed with. Designed for Mamas to be and new mamas, the small things you do for yourself can make all the difference.
The miracle of pregnancy and growing your very own little human inside you is the most unique experience for every baby and every mother.
Hormones are changing and emotions are jumping from high to low and every step in between. As a mother we are always thinking about what we can do to help nourish and assist the little wonder that flourishes inside of us.
Many women have the belief that pregnancy and postpartum should be calm and stress-free, however this is a very high standard to set. While focusing on all the things for a better flow, it is important to remember not to have the same expectation on yourself during this season of life, that you had before motherhood. These pregnancy essentials bring love and a nurturing energy to some of these moments.
To nourish your body and soul, we love our Bare Self Pregnancy and Breastfeeding Chocolates, designed with both mother and baby in mind. Not only are they gorgeous handmade chocolates that just taste divine, it is a reminder to indulge, nurture and rest, especially during this chapter of life where you're giving so much of yourself. Both chocolates are vegan, refined sugar-free and were designed with natural herbal supplements. In the Pregnancy Chocolate there's added super berries that are known to assist in the healthy development of your baby. Added to our Breastfeeding Chocolate are the herbs blessed thistle and also brewers yeast, these two supplements were chosen specifically for their benefits in stimulating and supporting lactation. 
To replenish, we are crazed over the beautiful Mama & Bird Skincare range. All the products that Mama & Bird offer are made for pregnancy with entirely natural ingredients, are certified cruelty free and offer peace of mind for you and your little one. The Belly Duo includes the best-selling Belly Butter and Belly Oil. The combination is perfect while your belly grows and changes, preventing pregnancy stretch marks and relieving your itchy pregnant belly, welcoming supple, smooth, ultra-hydrated skin that looks and feels radiant.
While gently massaging the product onto your blissful pregnant belly, take the moment to really be present. Appreciating the love and care you are taking for yourself. Feeling grateful for this magical experience. 
From belly to boobs to brain, so much changes when becoming a mother and it truely is a metamorphosis as you blossom and become a different version of yourself that you've never seen before. 
Our passion is supporting you through and beyond this new adventure.
Love Bare Self x Mama & Bird